What We Believe
The Rapid Response Network is made up of individuals and faith communities from the Coral Springs/Parkland area. We acknowledge our fundamental belief that Americans of every heritage can live together with equal rights and mutual respect.
We come from different backgrounds, faiths, viewpoints, and personal characteristics, but we are one people by our respect for human rights and the Constitution of the United States. Our diversity is our strength, giving us variety and vitality.
Hate acts and hate crimes attack the heart of America's identity as a caring, diverse, and inclusive society. The persistence of religious, ethnic and sexual intolerance tears at this very fiber.
Who We Are
The Clergy Coalition of Coral Springs/Parkland includes clergy members from many different faiths and backgrounds in Northwest Broward County. Together, we not only serve the interests of the multiple thousands of members of our congregations and houses of worship, but we also strive to promote the needs of all members of our wider community.
Chairpersons: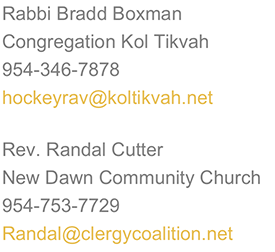 Our Mission
Our mission is to rapidly identify, respond to, and act upon , episodes of hate in the Coral Springs/ Parkland area.
In the event of an act of hatred, please call one of our representatives at either of these numbers, or at our on call number:

You will be contacted as soon as possible to discuss how we might help you.
Members of the Network
Various individuals and faith communities have made a commitment to build relationships of mutual respect, and to be available for pastoral response to hate crimes. They include:
American Islamic Center of Florida (AICF)
Christ Church—A Lutheran Congregation
CityReach Church of Coral Springs
Congregation Kol Tikvah
Council on American Islamic Relations (CAIR)
Islamic Foundation of South Florida (IFSF)
JAM and All Interfaiths
Masjid Jamaat al Mumineed (MJAM)
New Dawn Community Church
Royal Palm Christian Church (Disciples of Christ)
Saint Andrews Catholic Church
Temple Beth Orr
If you or your faith community would like to join the network or want more information, please call one of our on call clergy:
What is a "hate act" Or a "hate crime?"
A "hate act" we define as an act in which the perpetrator intentionally selects a victim, or the property that is the object of a crime, because of the actual or perceived race, color, religion, national origin, ethnicity, gender, disability or sexual orientation of any person.
Institutionalized discrimination refers to the unjust and discriminatory mistreatment of an individual or group of individuals by society and its institutions, as a whole, through unequal selection or bias, intentional or unintentional; as opposed to individuals making a conscious choice to discriminate.
The Rapid Response Network exists to identify, respond to, and act upon, acts of hate in the Greater Coral Springs/ Parkland Area. 
"Justice will not be served until the unaffected are as outraged as the affected."
-Benjamin Franklin
"The only thing necessary for evil to exist is for good people to do nothing"
-Edmund Burke